Taken from the spring 2023 issue of Dazed. You can buy a copy of our latest issue here.
In his first issue as editor-in-chief, as the pandemic forced us all to lock our doors and focus on what felt most important, Ibrahim Kamara wrote, "Youth culture is happening all around the world, and all of its elements – fashion, music, style – are in conversation with each other. This issue is a foundation for a journey that has to continue."
As we looked deep within ourselves and to our closest communities, a new fluidity crept into photography. Suddenly, photographers felt more like journalists, writers or painters than solely image-makers, using their own stories to tell expansive fashion narratives that actually said something about the world and where it might be going. It meant that accounts of little-seen corners of the planet, and fresh faces and
perspectives, filled our feeds.
Since then, as Ibrahim predicted, the paths set in motion by Covid have continued to set new agendas. With the help of social media and the hyperconnectivity of platforms like TikTok and Instagram, artists
have become less confined to, and defined by, one specific medium. Young, diverse, innovative, tech-smart and fuelled by the strength of their community, a new school of cross-disciplinary photographers has come to define a shifting medium.
Creatives like Hugo Comte are looking at ways to work collaboratively with their online bubble, and harness the power in numbers. As he explains below, Comte has invented a cryptocurrency to allow his followers to interact with his work and blur photography with his explorations in the metaverse. "The whole industry is being redefined by the people and not by the makers and deciders," he tells me. "People feel stronger together, because they feel that they have an influence on what fashion produces, and that they are no longer blind slaves of what the industry tells them." Crossing disciplines in similarly bold ways, Lea Colombo uses sculpture and installation alongside her photographic practice to explore the contours and complexities of the human body.
From Thibaut Grevet celebrating the power and scope of the natural world to Campbell Addy revolutionising diversity in casting and Rafael Pavarotti encouraging mindfulness and connectivity on set, we present the visionaries defining the unique pocket of history that we call now. Long live the power of fashion photography, and the remarkable individuals practising its craft.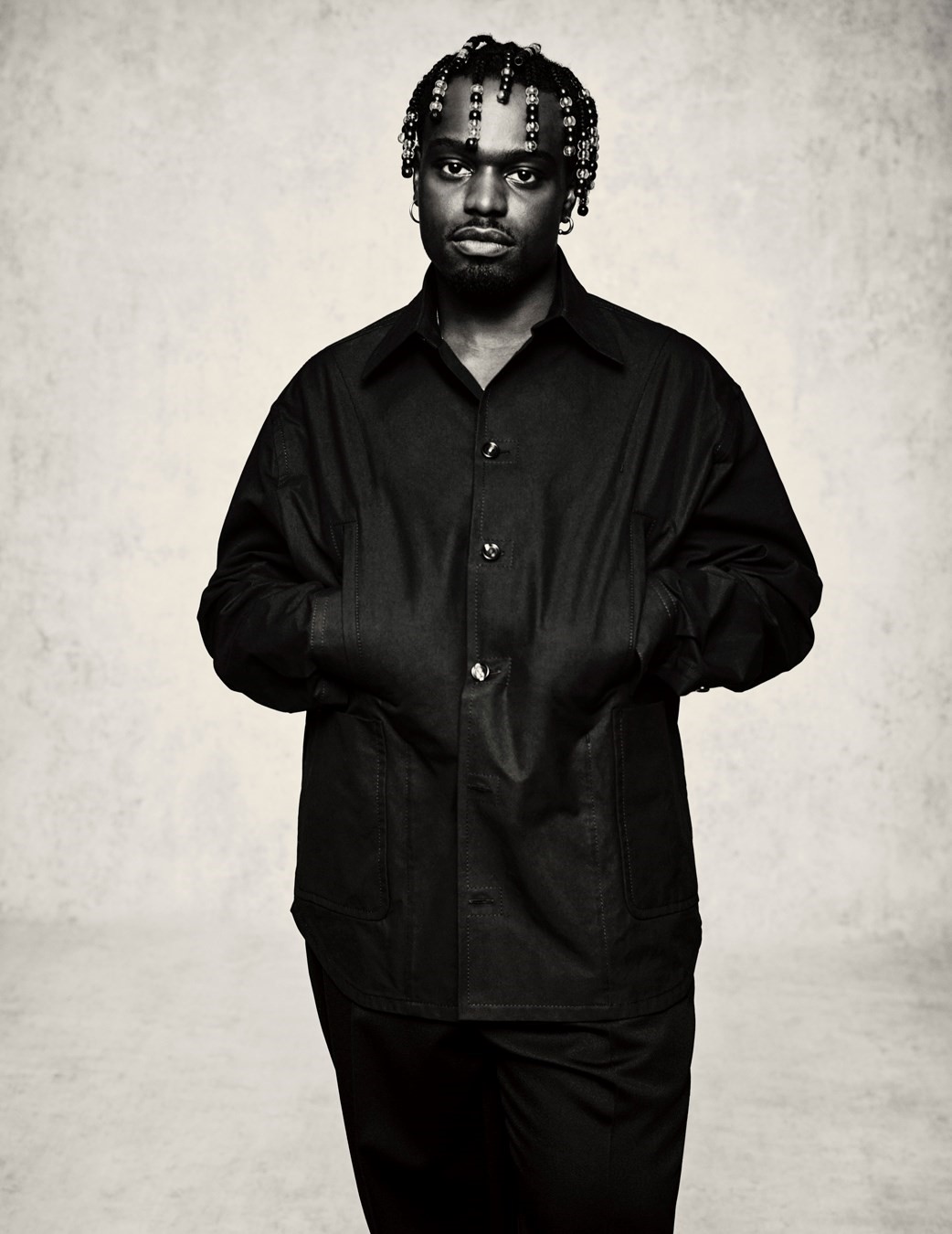 It's not hyperbole to say that Campbell Addy has moved the needle for fashion photography since graduating from Central Saint Martins in 2016. Born and raised in south London, Addy founded the casting agency and journal Nii Agency while studying at CSM, and has worked to platform distinctive and diverse new faces ever since. "At times, a person with a strong character dictates the ideas and stories that I put forward into the world," he tells me. "A cast member can often change a story and an idea, due to their zeal, gumption or sometimes their sensitivity." Over the years, Addy has witnessed a sea-change in attitudes towards inclusivity. "There have been recent projects and gatherings that have made me step back and think, 'Wow, we're really in a new age where everyone is so humble, and nice, and there's in part a lack of ego," he says. "People from all walks of life are coming together to piece together the puzzle of fashion, which makes it an entirely more exciting narrative." Humble, inspired and driven by a desire to see diversity celebrated and championed, Addy is one of the essential image-makers of our time.
Spurred by a fascination with movement, freneticism and the body, Thibaut Grevet is a French photographer and filmmaker bringing a fast-and-furious brush to fashion photography. Growing up in the countryside outside of Lyon, France, Grevet harboured a deep appreciation of nature and athleticism. "I always dreamt about being a pro athlete," he says. "I've always been fascinated by human performance and I think I'm trying to translate that in my work. [Practising sport] makes me happy and gives me the adrenaline I need to get creative." While Grevet may not made it as a pro-athlete just yet, he is an expert in his field of photography. As for his take on the creative process, nature is key: "It's important because it gives space to my anxious brain to think freely… It helps me to not think. When you don't think, the best ideas come." Let's all get out in the green and give our heads some space this year – it's clearly working for Grevet.
Having grown up in the Amazon rainforest, Rafael Pavarotti moved to London to refine his colour-rich,
oil painting-esque compositions. A champion of mindfulness, Pavarotti invites his cast and crew to stand in
meditation before a shoot, connecting through a common creativity. "We stop for a moment to integrate, connect, be grateful, feel the energy. Feel the silence. Be present in the now. I believe there is a very powerful force in this communion, this sacred space," he says. "One of my great partners is Ib Kamara; we love to dream and when we create together it's like a whole new world emerges from within." As if frozen in time, his portraits of pop-culture icons from Rihanna to Beyoncé have a striking, statuesque quality, though he is the first to admit that his work "isn't for everyone", despite him placing an emphasis on sharing and co-creation. As for the effects the pandemic had on his practice, he reflects, "I believe that the transformations that Covid brought – especially regarding time and space, desires and purpose – were completely necessary for me to be where I am now." For Pavarotti, going 'inside' has a powerful effect on the magic that is created on the outside.
Renell Medrano's colourful and vibrant portraits convey the vulnerability and emotion from the friends and strangers she encounters. Despite having names like Tyler, the Creator, Kendall Jenner and Jay-Z in her portfolio, it was on the streets of New York City that Medrano developed her creative excellence. Achieving a connection with her subjects that is second-to-none, Medrano puts human emotion and the goodness of people at the centre of her work. Shooting these days, she says, "feels like a community thing more than anything… Being on set with all the different young photographers – it's so beautiful to see because it
just feels like a community of like-minded individuals. It's amazing what we can do and at such a young age, too; it gives hope to other kids."
Hugo Comte is the photographic subversive blurring the lines between fashion, crypto and pop
culture. With a focus on community building and accessibility, Comte has used the power of the internet to
cultivate a body politic that acts as a catalyst for cultural cross-pollination. In his ongoing efforts to eviscerate the lines between creative media, the multi-hyphenate juggles numerous projects at once, from clothing collections to high-end fashion photography and album cover shoots for pop icons like Dua Lipa. Using the metaverse and crypto to control how his work is interacted with, Comte grants his fans the ability to earn $Nikita coin, rewarding them for engagement rather than money spending. When asked why he feels that cryptocurrency is important for the future of fashion photography, Comte says, "Fashion photography has a mostly commercial purpose; it's economy and culture-driven, meaning that our production is always in tight conversation with the way that people consume it. Crypto and Web3 in general will change the way people consume, therefore we will need to change the way we communicate
ideas to people."
Malick Bodian is the Senegalese model-turned-photographer making waves with clean-cut compositions and impeccable attention to detail. Shifting his gaze from in front of the lens to behind it, Bodian has a sensitivity to his subjects that only a model could possess. "I don't see myself as only a model or only a photographer – doing both completes me," he says. "I need my modelling experience to understand
models and, because I'm taking pictures, I understand photographers better. It's a win-win." Lensing natural beauties for brands like Bottega Veneta, Wales Bonner and Jil Sander, his work is influenced by 1970s west African studio portraiture, in the vein of a modern-day Jean-Paul Goude. As for the culture of contemporary fashion photography, Bodian asserts that "there are a lot of new young photographers that have fresh eyes. There are new ideas and it's exciting to be part of them."
As the first woman of colour to photograph a Vogue cover in 2020, Nadine Ijewere is smashing
conventional beauty standards with her powerful portraiture of women. A native Londoner with Jamaican
and Nigerian heritage, Ijewere explores themes of identity and diversity through her work, making space for underrepresented natural beauties. "Diversity is finally being celebrated and recognised; it's important to me and my work definitely reflects this," she says. Taking a break from photography during the pandemic, Ijewere was able to reflect on her creative process. "I feel closer to my work… I'm grateful to be in a position where I can slow down." Trust is paramount to her practice, working with teams that contribute ideas and build on briefs and references the photographer has set. "When working with others, knowing the possibilities is a big part of my process. I'm very aware of the strengths of the people I work with and love to explore what's possible." Her work stands testament to the ways in which truly collaborative processes can result in the highest standard of fashion image-making.
Clara Belleville's work crystallises the purity of youth. Her photos are vulnerable and emotional, capturing a spirit of freedom in her subjects. "I think emotion is the essence of art," she says. "It's the movement that pushes artists to create and it is what they hope to convey. Fashion photography is not exempt from that." Citing Nan Goldin and Larry Clark as key influences, her raw imagery of young adulthood powerfully conveys the essence of adolescence. "As I see it, fashion photography oscillates between two extremes. On the one hand, it's depicting life as it is, with the desire of catching a larger range of realities. On the other hand, it creates abstract worlds, inventing surreal spaces of creation where anything is possible. And in between, there are countless representations. My work leans more on the realistic side, creating small stories you can relate to." Keeping it strictly real, Belleville's power lies in her ability to communicate these vulnerable representations of the human condition.
With a background in international economics, Justin French is something of an anomaly in the fashion industry. Indeed, his powerful, socially aware photography is the last thing you might expect from an economist. But for French, the transition from spreadsheets to photoshoots felt seamless. "Working as an analyst primarily for marketing required a unique creativity to help brands tailor ads by their respective
audiences and mediums," he says. "From a client-facing perspective, my background has been extremely valuable for me in the photo economy." Celebrating and bolstering the representation of LGBTQ+ and PoC
voices in his work, the Chicago-born photographer now works to create Afrofuturistic masterpieces of iconic standards. When quizzed on the core traits and aims of his deeply contemporary fashion photography, French cites "a sense of wonderment, poetry, melancholy, dread, warmth or whatever the headspace the photographer/team were in while creating. Fashion photography should be transformative and an engine for discourse. I believe my work encompasses some of these things. There is love present in my work."
Growing up in Malibu and rubbing shoulders with some of fashion's most glamorous icons, it's in Brent
McKeever's DNA to create sexy, cinematic masterpieces. You can feel the heat and the haughtiness of the
famous beach in his sticky cover art for PinkPantheress' debut mixtape and in Rihanna's 2021 vinyl rereleases of her back catalogue. But while McKeever's images often feel fantastical and otherworldly, there's an autobiographical seed in all of his work, he insists. "I don't like to portray something I haven't felt or lived – which makes working commercially for me either fantastic or horrible." And while he credits Steven Meisel and Craig McDean for their lasting influence, his most powerful early memory of photography was seeing family photos taken by his dad. "There is an authoritative male gaze in them all and I can feel my dad behind the camera. I want you to feel me behind the picture on your phone." Ultimately, surmises McKeever, photography is an act of self-discovery. "I grew up believing or at least behaving like something I was not, but those questions of who I am and why I feel this way are what drives me to pick up (or put down) the camera."
"From young I was the one to mess around in class", says south London-based photographer
Gabriel Moses. "I've always enjoyed making people laugh. As long as I've done this, I've taken pride in making an audience feel something or presenting them with familiar details of our world through my eyes." A champion of authenticity and individualism, Moses' work radiates a liveliness and crystalline honesty
that's apparent in his up-close-and-personal portraits of Pharrell, the shape-shifting music videos he directs for Little Simz and his truly one-of-a-kind, sci-fi-tinged images of Pa Salieu for the cover of Dazed.
"[The pandemic] was a blessing in the sense that there was stillness in my life – it allowed me the luxury of being able to just think," he says. "Multiple ideas were birthed in that period of time." His ultimate goals, he says, are to make people feel good and force them to keep exploring their wildest imaginations.
Will Scarborough isn't going anywhere, but he sees the role of the photographer drastically evolving in the coming years. "There are endless abstract ways to create images now. For example, with creative directors shooting their own campaigns, it is really about redefining the role of the teams involved moving forward." Indeed, a surreal and humorous energy bubbles beneath the surface of Scarborough's vital fashion imagery, as if he is constantly playing with new ideas, smudging the barriers between him and his subjects, and rejecting any hint of editorial ego. His 80s-inflected Working Girl homage, shot with Ib Kamara last year for Dazed, was fitted with the perfect tagline for his approach: "Wait, What?" "It's hard to say what [defines] contemporary fashion photography as almost anything goes and we all have different parameters of taste," he says, before reflecting on the ways the medium has embraced sociopolitical messaging in recent years. For Scarborough, his work exists on the tramlines of fantasy and social commentary. "I think there is responsibility towards the work now in terms of its wider social context, which is good. People really want to feel represented by these images more than ever before, whereas previously it was all about deceit and the unattainable fantasy."
Lea Colombo is the photographer-turned-artist exploring the power of the feminised body. Born in Cape Town, Colombo has captured the likes of Billie Eilish and Cardi B, though recent years have seen her step away from more commercial fashion photography to adopt a more spiritual, multifaceted approach to art-making, creating vivid paintings, sculptures, prints and installation pieces. Her multi-hyphenate approach to creativity, she says, "relates an open and intuitive process, a mindset that allows creativity to flow with no boundaries." A powerhouse who likes to celebrate joy and gentleness, Lea brings a human touch to any subject she works with. As for her fascination with every contour of the human body, well, "there is so much to explore," she remarks. "[Photography] allows us endless opportunities to do so."